It's been 6 years since British toddler Madeleine McCann was abducted from the apartment in which she was sleeping in Praia Da Luz, Portugal.
Her parents, Kate and Gerry McCann were eating with friends in the restaurant on the apartment complex and were regularly checking on Madeleine and their twins who were asleep in the apartment. It was during one of these checks that they discovered Madeleine had gone from her bed and was nowhere to be found.
Despite extensive searches and high profile international appeals Madeleine has never been found and no one knows what happened to Madeleine on that fateful Thursday evening on 3rd May 6 years ago.
Madeleine was only three years old when she disappeared and today is her 10th birthday. With no proof of death Madeleine is still classed as a missing child.
Last year, with the help of Tea&Biscotti I launched the Blogging 4 Madeleine campaign, with over 40 bloggers supporting the campaign as well as Britmums community of lifestyle bloggers and social influencers. We all released posts about Madeleine on her 9th birthday and helped to promote the age progression image of how she may look now that had just been made public.
This year, with the support again of  Britmums and dozens of bloggers we are once again turning our attention to Madeleine and taking a moment today on her birthday, to remember that she is still missing, along with hundreds, if not thousands of other children (and in some cases now adults). These include other high profile cases such as Ben Needham, a 21 month old toddler who went missing from on the Greek island of Kos in July 1991 and Katrice Lee who disappeared from a naafi supermarket in Schloss Neuhaus, Paderborn in Germany way back in November 1981 on her 2nd birthday.
As a mother myself I cannot begin to imagine what it must be like for something like this to happen. For your child to seemingly disappear into thin air and to never know what has happened to them. The thought is just utterly heartbreaking.
Many people have their own opinions as to whether Kate and Gerry were right to leave their children alone that evening and it is something that has created extensive debate worldwide, but regardless of views and opinions on that matter, the one underlying fact that is most important above and beyond any of that, is that Madeleine is still missing, she is still a child, a child who was taken from her loving parents, a child who must have been so scared and confused and a child that belongs back home with her family. Just as Ben and Katrice do too, they may no longer be children, but they were taken at such young tender ages, their families deserve closure and to know what happened to them.
There are examples of children who vanished for many years, reappearing safe and well, such as Jaycee Lee Dugard in the USA and only this last week the news of three American women who had been held in a basement for over 10 years in Cleveland, America and had been snatched in their teens until one, Amanda Berry, managed to escape and raise the alarm.
So until Madeleine, Ben and all the other missing children are found we cannot give up hope, nor can we forget them, the above cases are proof of that.
#Blogging4Madeleine is a campaign to keep Madeleine's name and those of other missing children in the spotlight. To ensure that people don't forget, that hope is never lost and that people continue to search for them.
Please join with us in continuing to spread the word of Madeleine, Ben and all the other missing children:
Like and share #blogging4madeleine blog posts via Twitter, Facebook, G+ and other social media
Write a blog post of your own and link up at Britmums official #Blogging4Madeleine link up and share using the hashtag #blogging4madeleine and use our #Blogging4Madeleine badge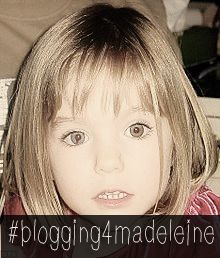 Visit the Find Madeleine and Find Ben official campaign pages and see how you can support the individual campaigns.
Take part in Missing People's International Missing Children Day on 25th May and take part in their Big Tweet
If you know what happened to Madeleine or have any information that may be of use, such as a possible sighting then contact your local police station immediately and the Madeleine investigation line on +44 845 838 4699 or email investigation@findmadeleine.com
Together we can help to make a difference.
Links: